Your house deserves the royal treatment.
Even though we buy and sell houses, we believe that we're in the business of human development. Therefore, we're always looking for the newest and best ways to market to people and get in front of them in the most organic way, according to the most recent research and data. What that means to you is your home will be marketed on all possible platforms and showcased to people while they're scrolling through Instagram, searching on Zillow, browsing through Open Houses, and much more. When it comes to marketing, we will never be beaten. That's a promise.
---
First, let's talk about video.
Video is EVERYTHING. No matter the business, the main way to capture your audience's attention is via video. When we market your home, creating a video showcasing the property will not only attract more attention, it allows the viewer to visualize themselves living in the home. It's as if they are walking through the halls of your home without even being there, subconsciously choosing where they are going to hang their family photos. Can you see the value in video? We do. That's why it's never a marketing option that we will veto. You've probably already watched our listing video above, but if not, check it out to see the quality in which your home will be marketed.
---
Say click, take a pic!
If you've ever taken on the beast of searching for your dream home on Zillow, Realtor.com, or any other home search site, you might have noticed that not all listings are created equal. If you ever want to have a good laugh, google "bad MLS pictures". It will be worth your time. As we said previously, we will never be out-marketed. You can see the level of professionalism we claim for each listing. Here are a few examples of listing photos we've taken over the years: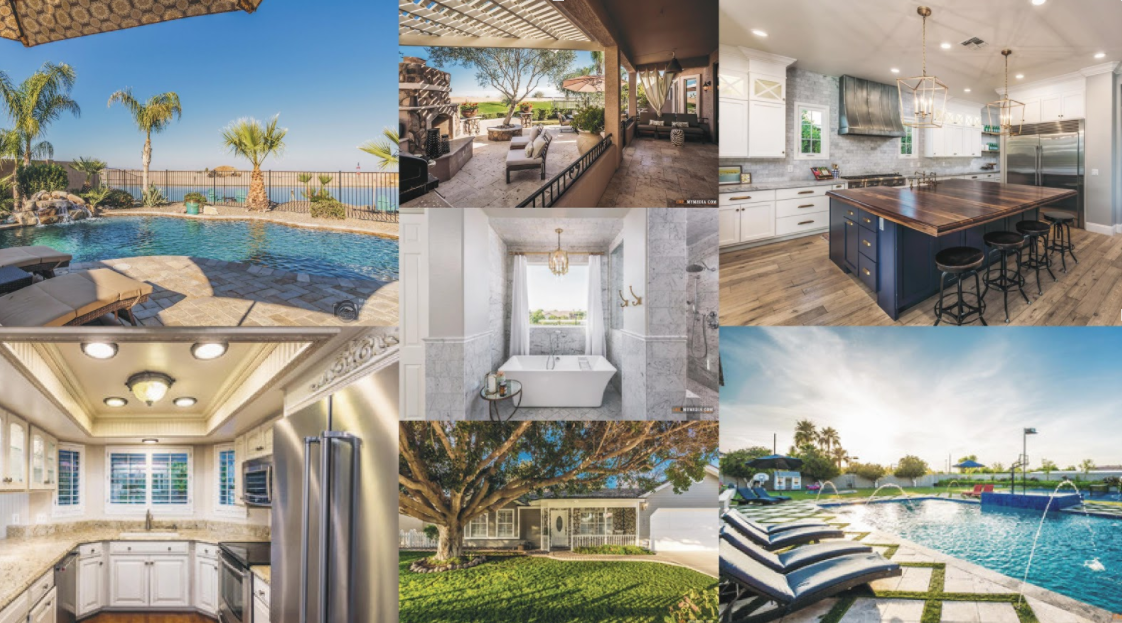 Something that's special about our team versus other realtors is our in-house photographer and videographer. What this means to you is you will have the peace of mind knowing that you don't have to work with multiple third-party business to get your home sold. With all the unexpected ups and downs that come with buying/selling a home, it's reassuring to have a steady, devoted team working for you in all aspects of the transaction. So whether we're taking twilight photos, glamorous kitchen photos, or breath-taking aerial shots, your home will be marketed at the highest level.
---
Let's Get Social
Facebook is no longer just the place to reconnect with old high school friends and spy on past girlfriends/boyfriends. While scrolling through your feed, you may have noticed that an advertisement will pop up for a store or restaurant that you recently visited. Even though this tends towards a bit creepy, it is a really advantageous way to market your home! Facebook and Instagram not only allow us to directly market to people that are interested in the area you live in, but we can also adjust the demographics to target people that are searching for homes on Zillow, in your home's price point, with the same number of bedrooms and bathrooms. We can get super nitty-gritty.
Using social media to market your home gives us an incredible amount of exposure versus just posting it on the MLS for only realtors to see. Do you want an open house? Boom. On Facebook. Want to brag about the incredible upgrades you've done to your home? Bam. On Instagram. This type of marketing also ties back into the use of video that we mentioned before. When people see a video on their feed, they're more likely to stop and watch, even if it's something they weren't searching for specifically. Advertising your home on social media is, without a doubt, one of the smartest ways to draw attention and find a buyer.
---
The proof is in the pudding!
In the age of Yelp, Facebook, and Google reviews, it's crucial that you evaluate your choices before you make a decision, especially when it comes to selling your home. There is also a lot of power in numbers, so the more reviews a company has, the better chance you will have at making an educated and confident decision. Our Zillow profile currently houses 230+ 5 star reviews from people who had all sorts of different buying and selling situations. The BIG Helper Realty Group also has a reputation for breaking records. What this means to you is we will work to have your home sold for the highest possible price, putting more money in your pocket. You can see some of our ⭐️ FIVE STAR ⭐️ reviews below, as well as a map of our recent sales. Check out more Zillow reviews HERE.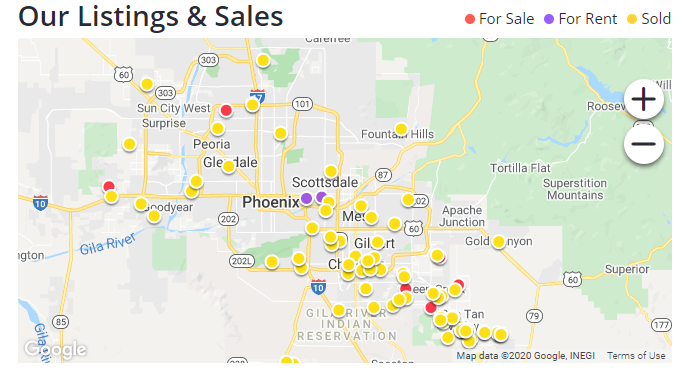 "The Big Helper Group was our realtor when we moved from OR to AZ. He is very easy to work with and is very responsive! Much of our experience working with them we were still living in OR, he was always willing to do a video call of homes we were interested in AZ, he is very patient and listens to what his clients want in a house. His negotiation skills were OUTSTANDING, which is what got us our new home in this very competitive market! We would highly recommend the Big Helper Group to anyone who is looking to buy a house, he is very compassionate about his work and customer needs, he's very professional and very easy to work with" - Buyer in 2020
"I had been declined by 10 mortgage companies, the Big Helper Group began to help us look at rentals until I found a company that said he could get the loan done. On that, we began looking at houses again. He never made us feel like we were wasting his time. We finally found one a house we loved, offer accepted it took us almost 60 days to get it closed!! He stayed with us talking daily, answering any questions we had as this unfolded. We felt like important clients and that is appreciated. I would always recommend Merrill and Big Helper realtors!" Buyer in 2020
"Incredibly friendly and personable. Always happy to help break things down during the process to make sure I understood what was going on. Thanks for helping my dogs and I find a wonderful new home!" Buyer in 2020
#MERRILLSMARKETMADNESS Buying vs Renting
Merrill breaks down the real estate trends in Maricopa County. He discusses how quickly your home can potentially sell and whether you should buy or rent your next home. Do you have a question for Merrill? Ask your questions in the comment section, we'll be happy to answer and possibly make a video regarding your question in the future! Facebook: https://www.facebook.com/BigHelperGro... Instagram: https://www.instagram.com/bighelper_e... Website: https://www.bighelperhomesearch.com/ Investing in Phoenix AZ Real Estate
The housing market keeps BOOMING?? In the Phoenix Metro area! The constant growth is causing a high demand for houses which is great for buyers and sellers! RIGHT NOW you can sell your home quickly for top dollar AND buy a home that will be giving you a great return on investment! Make sure to watch Merrill every Monday morning to get a detailed, specific overview of what your housing market is currently doing!