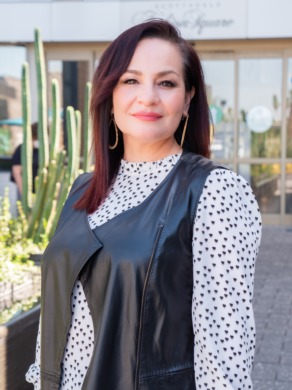 Originally raised between the two cities of Los Angeles,Ca and San Luis Riio Colorado ,Sonora ,Mexico,I spent most of my childhood with my roots running deep in both countries.I loved what both countries had to offer and gained fluency in both English and Spanish. 
Once married, we moved to Arizona and have been Arizona nativesfor the last 25 years.i am a proud mother of three boys who are now old enough to be called grown men.we have lived in Queen Creek for the last 17 years and absolutely love the city as well as all of what the East Valley has to offer. It has really proven to be a wonderful place to raise a family and I can say I have enjoyed witnessing it's transformation first hand !

I knew early in life that my passion was working directly with people.i have worked most of my life in luxury retail .Although I've  held various positions,a majority of my experience has been as a visual artist and in management and sales.I truly enjoy helping others in any way that I can and love beign able to develop long term friendships and relationships.I find that all of this translates beautifully into the real estate industry and have found a love for house hunting as well as the listing process.
In my free time,I enjoy hiking,cooking,dining out and entertaining loved ones.I love the art of film,music and traveling when possible !
Biografia : Fui criada entre las dos ciudades de Los Angeles ,Ca y San Luis Rio Colorado,Sonora ,Mexico.De nina pase mucho tiempo entre estos dos paises y es por eso que mis raizes son profundas en ambos.Amo lo que los dos paises tienen para ofrecer y soy bilingue en Ingles y Espanol.
Una vez casada nos mudamos a Arizona y desde entonces hemos vivido aqui por casi 25 anos.Soy una orgullosa madre de 3 hijos varones que ya son adultos y hemos residido en la ciudad de Queen Creek,AZ por los ultimos 17 anos  .Amo esta ciudad y he disfrutado mucho verla crecer y convertirse en lo que es hoy , de hecho todo el Valle del este de Phoenix es muy bonito y me encanta por todo lo que tiene que ofrecer.
Desde muy joven supe que mi pasion era trabajar directamente con el publico.He trabajado la mayoria del tiempo en tiendas departamanteles de mucho prestigio y en varias posiciones como manejadora,agente de ventas e incluso decoradora visual.Me encanta el trato directo con los clientes establecer una buena relacion y ofrecerles muy buen servicio para ayudarles a conseguir sus metas . Por eso disfruto tanto la Profesion de Bienes y raices por que incluye todo esto y es muy gratificante poder ayudar a alguien comprar su casa ideal o tambien vender su actual casa .Es una de las transacciones mas importantes en la vida  de uno y es muy emocionante !
En mi tiempo libre me gusta mucho pasar tiempo afuera en caminatas largas,salir a cenar. me gusta mucho cocinar y entretener a mis invitados.Soy muy familiar!  Me encantan todas las artes pero sobre todo la musica y el Cine y trato de viajar siempre que me sea posible !