Adora Trails Homes for Sale
Nestled into the San Tan Mountains, you'll find a lovely community of Adora Trails. Not only is it peaceful, but it also caters to the desires of the active member of the community. This is the place to live if you and your family are the types to go for a hike on a nice Saturday morning, play Marco-polo in the pool with neighbors, or play a round of golf with friends. Adora Trails real estate encourages and provides ways for its families in the community to experience living life to the fullest. Can you picture yourself living that kind of life?
---
Never a Dull Moment
You may be wondering what exactly sets Adora Trails real estate apart from other subdivisions. As we mentioned before, this community is an active person's paradise. We're not saying that you have to do 5 mile runs every day to fit in (my calves cramped just thinking about that). Adora Trails real estate merely inspires one to experience all the beauty Arizona has to offer and encourages people to get their hearts pumping. Here is a list of amenities that make this community unique:
12 miles of walking trails intertwined throughout the neighborhood
Large community pool with water playground
Splash pad
Soccer fields
Basketball courts
Baseball fields
Stylish community center with lounge area, patio, and full kitchen
Fitness center with state of the art equipment
Virtual fitness classes via fitness kiosk
In-person yoga and boot camp classes
Short drive to San Tan Mountain for hiking, biking, horseback riding, and bird watching
Community lake stocked with fish for catch and release
You may have noticed the option for virtual fitness classes in the list and wondered what-in-the-world we were talking about. Let me explain. Adora Trails real estate has a virtual fitness kiosk that provides a myriad of fitness classes to choose from. After selecting a class, a projector screen lowers down and the virtual instructor begins the class. Just like that. Amazed? So are we. Not only does the community offer these things for individual people, but it frequently orchestrates neighborhood soccer, basketball, and baseball games. Does this speak to your inner competitor? Just check out this view from the fitness center!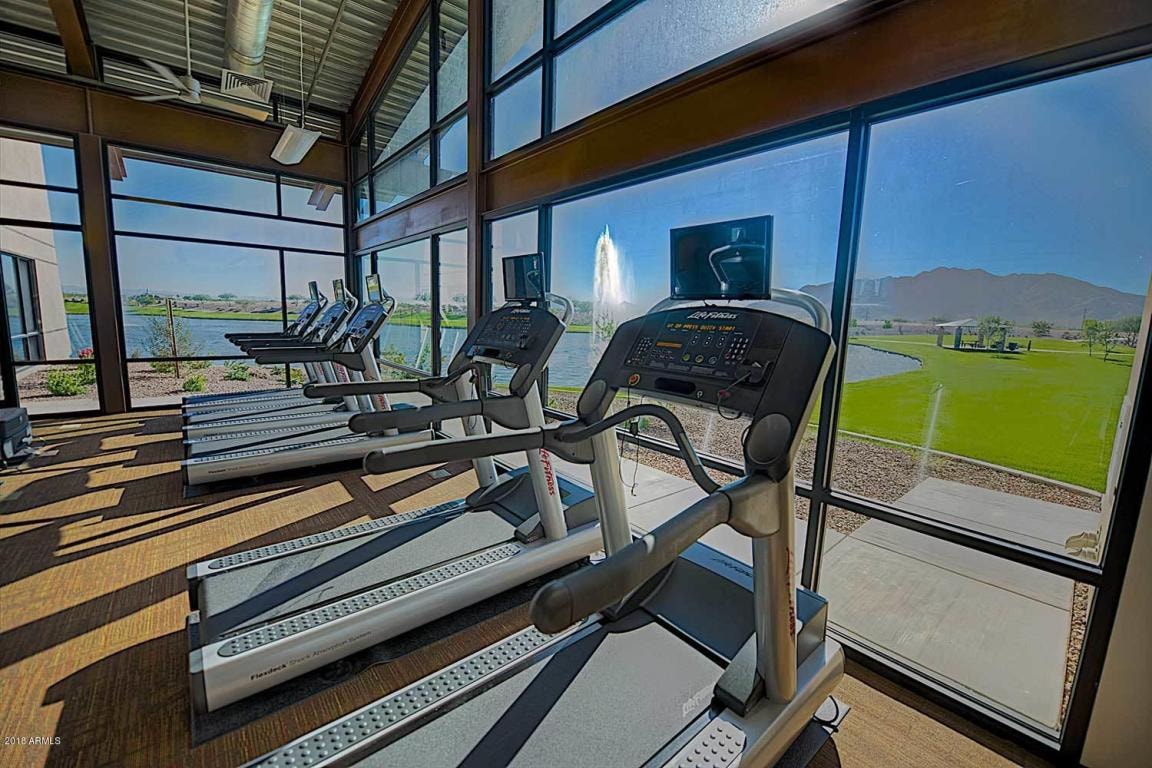 ---
Here is a layout of the neighborhood…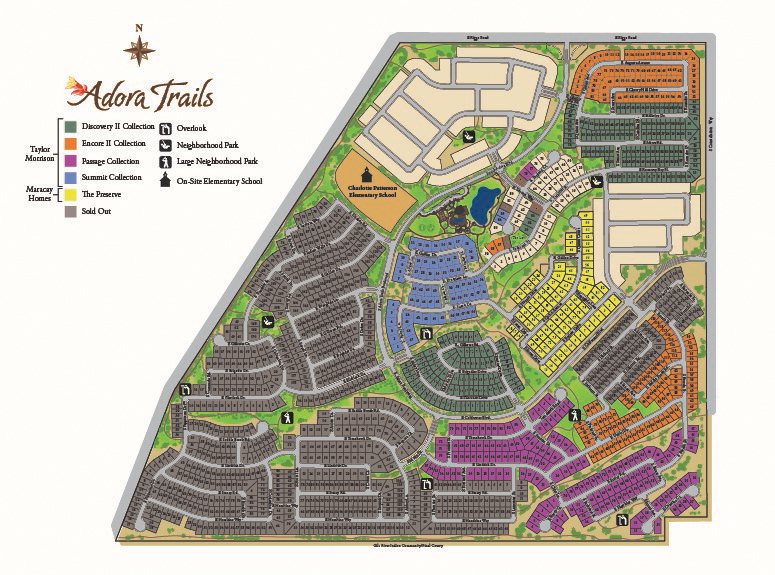 In Adora Trails, there are two different home builders: Taylor Morrison and Maracay Homes. There are four different collections of Taylor Morrison homes to choose from in four separate divisions:
Encore II: 1,733 - 3,534 sq. ft. // 3 - 5 Bedrooms // 2 - 3.5 Baths
Discovery II: 1,573 - 2,985 sq. ft. // 3-4 Bedrooms // 2.5 Baths
Passage: 2,271 - 3,958 sq. ft. // 3 - 5 Bedrooms // 2 - 3.5 Baths
Summit: 2,747 - 4,576 sq. ft. // 4 - 5 Bedrooms // 2 - 4.5 Baths
There are also four different Maracay homes to choose from within the Preserve division:
Verbena: 2,494 Sq. Ft. //4 - 5 Bedroom // 2.5 - 3.5 Baths // Split 3-Car Garage
Sage: 2,788 Sq. Ft. // 4 Bedroom // 2.5 - 3 Baths // Split 3-Car Garage
Cholla: 2,990 Sq. Ft. // 4 - 5 Bedroom // 3 Baths // 3-Car Tandem Garage
Copper: 3,342 Sq. Ft. // 4 - 5 Bedroom // 3.5 - 4.5 Baths // Split 3-Car Garage
Make sure you watch the video at the top of this page to see the different houses and layouts!
---
Places to go & People to see
If you've never been to Gilbert before, you're in for a treat when you come to visit Adora Trails real estate. The Town of Gilbert is quickly becoming the number one place to live. It's officially the best place to raise a family in all of Arizona, one of the best cities to buy a house in the USA, and stacks up nicely in a bunch of other categories. See HERE for more stats. When driving from city to city in the East Valley, you'll notice a change when you cross the Gilbert border.
Around the Adora Trails real estate, there are many places to eat, be entertained, experience Arizona's natural beauty, and much more. Here are a few things to do that are a short drive from the neighborhood.
Bear Creek Golf Complex (11 min drive). Bear Course stretches to 6,825 yards from the back tees and plays to a par 71, with a course rating and slope of 71.6/122. The Bear was designed as a championship length inland "links-style" course and features rolling fairways, strategic bunkering, and well-conditioned greens. This course is just one of many beautiful golf courses around the Adora Trails real estate. See more HERE.
San Tan Village Mall (19 min drive). This mall has it all, folks. From popular department stores to family-owned pop-up shops, to fantastic restaurants. This is an outdoor mall, but misters line the sidewalks so you won't break a sweat.
Veterans Oasis Park (7 min drive). Escape to Arizona's beauty while walking around this nature park. See plants naturally grown in the desert and the birds and critters that live in them. On a cool Autumn day, this park is the place to go and enjoy some fresh air.
As much as we love talking about food and fun things to do, we should also mention that the houses for sale in Adora Trails are surrounded by top-rated schools. Check them out HERE.
---
As you can see, this is an incredible place to call home. When you picture your dream life, are you living in Adora Trails?
Adora Trails
December 11, 2023
Here is the latest housing news on Merrill's Market Madness